Interview done in 2006.
Formed in 1989, and released two albums before dissapearing. But after a 10 year hiatus they've returned with a stunning 'new' album, Croatoan, so we at breathe-plastic thought it was time to ask the band some questions.
Could you start with introducing the band?
Rennie: The Rosa brothers: Harry and Vince are the backline, Todd Forkin – guitar, and Rennie Resmini – vocals. The band formed in late-'89 with a different lineup. We held a firm lineup from 1991 until 2000. now and then we'd add a second guitarist – evidenced on the Definitely Not the Majors comp, and if you were living here in the early-90s and even early 2000s you might've caught a show or two with us sporting a second guitarist.
There has been a 10 year hiatus between your last two albums, what was the reason for that?
Rennie: A major line up change after Todd and Michelle divorced forced us to get a new bass player. For a little while Liam Wilson of Dillinger Escape Plan was playing with us. We also added a second guitarist: Jim Winters (Believer, Turmoil, the Promise.) It hindered us from being able to play out as Dillinger and the Promise were touring machines.
Recording Croatoan took more time than anticipated. At the studio we ran into equipment troubles that tossed the schedule out the window. It took over a year to return to mix the cd because Pierre Remillard was so booked up with different projects. It was absolutely crazy. We are the posterchildren for the murphy's law adage: whatever can go wrong, will go wrong.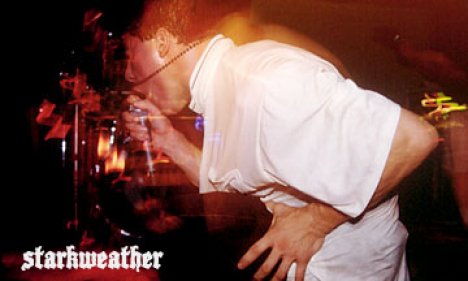 And what happened in that period of time, different projects or just taking a break from Starkweather?
Rennie: The band isn't a full time job. We do this as an outlet. Our core personnel is older than the average band, so we have family lives and full time jobs. Family takes priority over music. Although we may have been "away" from the scene much of it had to do with the core members taking time to teach different people old material. Now and then we'd have a 2nd guitarist in the line-up, and, again, after we lost our original bass player (an original member with 10 years in the band) it can take quite a bit of time and patience teaching someone all the material. We also wrote a lot of new material while being away.
Are you back 'for good' now, or will Starkweather go back into hiding after a while again?
Rennie: Whether we're in a perceived hibernating phase (or not) we keep busy. Right now we're in an extremely busy writing period. We're working on a mcd at the moment that's nearing completion. That is a 3 song, 22 minute production. We've been recording and mixing it at Dalek's Deadverse studio. In addition to that we're working on tightening up another 7 brand new songs for a full length we hope to begin recording mid 07.
I've read quite some reviews that describe you as 'hardcore' or 'metalcore', I don't think you can be placed into those genres . How would you describe the band yourself?
Rennie: We tend to view what we do as having a musical groundwork grounded in metal. The hardcore element has to do with our mental space. We have a no-bullshit hardcore aesthetic. We describe what we do as having a narrative or cinematic flow. The music balances aggression and melody – working dynamics: peaks, valleys, layering disparate tones, sonic dichotomies. The rhythms tend to be off kilter and tribal… something that came naturally for us probably because we're always trying to do something different and the fact we're not trained musicians.
Your clean voice is very different from the usual vocalists in the metal genre. What are your influences and inspirations when it comes to vocalists?
Rennie: The clean vocals were always influenced by more "morose" vocalists like Gira from Swans, Diamanda Galas, Nick Cave/birthday party, Baron/Amebix, Killing Joke, etc than any of the typical melodic singers. The whole idea for the different "voices" so to speak is to use vocals as an instrument. To have vocal sounds and textures to offset or combine with the music.
And music wise, what bands are an inspiration for you and the band?
Rennie: Voivod, Celtic Frost, Amebix, Swans, Articles of Faith are the big ones for me and Todd. Harry and Vince would probably cite Watchtower, Atheist, Dream Theatre, Fate's Warning, Iron Maiden.
An old interview I read mentioned that you were very interested in serial killers. I assume the name of the band comes from the killer with the same name, but are you still into studying serial killers, and what fascinates you about it?
Rennie: Growing up in this area we had the Joseph Kallinger case (the book The Shoemaker, deals with him). One of my closest friend's father worked the legal end for the prosecution.
When looking up the title of the album, Croatoan, I found sites that referred to settlers in North Carolina that disappeared, why was this title chosen? Has it got something to do with the band 'disappearing' for a longer period of time, or is it something else?
Rennie: Yes, one of the reasons for choosing "Croatoan" as a title has to do with the band being under the radar for such a long time. The name is derived from a tribe of American Indians. When the band began we used to describe what we did as "tribal metal." As far as the stories concerning the disappeared colonial settlers, the word "croatoan" was found inscribed in wood near the homestead, thereby implicating the tribe in the disappearance.
How does a band from the US end with a Belgian label for their vinyl release? Weren't the US labels interested? And you are on Candlelight as well now, are you happy with them?
Rennie: To be honest we really weren't interested in doing vinyl. To us vinyl is more of a novelty than anything else. It wasn't until the guys at Hypertension convinced us to do it. No other label would've been as committed to quality as Hypertension. The vinyl version of Croatoan looks incredible: from the cover stock down to the actual vinyl. I'm really pleased with the way it came together.
The cover for Croatoan looks amazing, who did the artwork?
Rennie: Paul Romano did the artwork. He's probably best known for his work with Mastodon, Red Chord and Trivium – although he's done things for Godflesh, Earth, etc. Check out his work via www.workhardened.com
Last year you headed out to Europe, for the first time if I'm not mistaking. How did that go? And how was playing with Amen Ra?
Rennie: Was extremely stoked about playing with AmenRa. Great band, great group of people. Yes, the 05 European tour was our first time over there. It went as expected. Some shows were exceptional some weren't. The main problem being we went over before the Candlelight deal went through. If the Croatoan cd was out beforehand the shows that weren't great probably would've been much better.
Was it a lot different playing in Europe compared to playing in the US?
Rennie: Yes, things are vastly different, and for the better, in Europe compared to playing Stateside. Things overseas are run like a well-oiled machine. Very organized and efficient.
What's the plan for Starkweather for the remainder of this year and 2007? Can we (and if yes when?) expect a new album any time soon? And how will that differ from the songs on Croatoan? As from what I understood that material is already quite old.
Rennie: You're correct about the Croatoan material being old material for us. Some of it obviously tracing back to into the wire. You'll notice the end of Into the wire has the excerpt of "slither." "wilding" and "vespertilian" were songs we had been playing our in the mid 90s. 2007 will see the reissue of Crossbearer and Into the Wire with additional material that appeared on compilations and 7″s. Also, as we've discussed earlier, we'll have a mcd out before mid 07 and, with any luck, we'll be able to record the new full length by mid 07. Ok, Armand, thank you so much for your time. Hope all is well over there. Take care.
More info on Starkweather:
Starkweather Facebook
httpv://www.youtube.com/watch?v=hWjmbfox6J0